What questions do you have after the first couple of days?
I arrived a bit late, but even after half a day of discussion and a couple of hardcore reading hours I'm filled with thoughts. We have not answered the question of "what is digital humanities" – and, for now, agreed not to have one, or to at least allow it to have its vagueness for now.
In addition, while I am all completely for the use of digital tools to look at primary sources and data, Daniel's constant question, "What does the digital add to the project?" Many of the projects we looked at could have been done in a physical form rather than a digital one. Victoria's second map from last year's project, while incredibly appealing, could be made with some ingenious sliding mechanisms in a book. The linguistic analysis piece could have also been done by hand, albeit painstakingly.
As I'm thinking about the proper usage of digital humanities that helps the viewer better understand the material, I remembered about the Book of Kells, an Irish calligraphic version of the Bible made circa 800. I took a 3-day calligraphy class in high school; we watched the animated movie, "The Secret of Kells" (fantastic, unique, imaginative, 9/10, would recommend), gained a newfound appreciation for the book, and then proceeded to observe the book itself, in all its intricacy and beauty, through a digital collection of Trinity College in Dublin. What followed then was a practical demonstration of Irish calligraphy and then our own student trials of pen and ink. The movement from digital media to practical hands-on experience really solidified the small course and brought the students the most benefit in the most constrained time – a quality of efficiency that I hope to emulate in the less-pedagogical-more-research-oriented project.
This is the most famous page of the Book of Kells, the  Chi-Rho Page, named for the large character.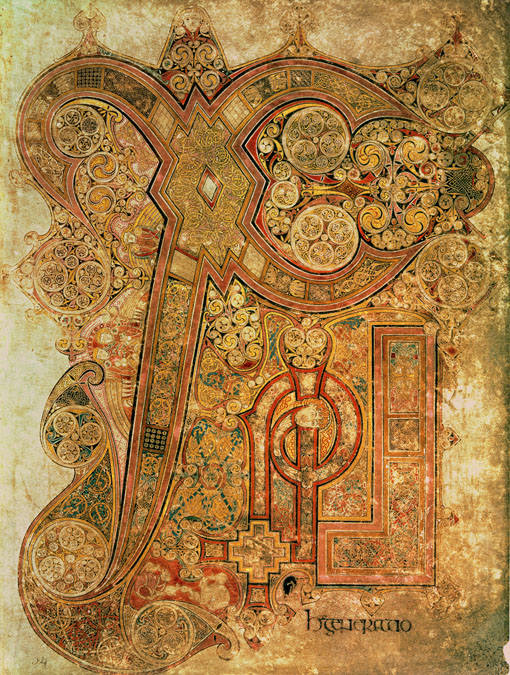 Compare this image with Trinity College's digitized version, which allows a fantastic amount of zoom (you need to scroll to folio 34 r to see it).
I'm not yet sure what  to do with this example yet except keep it as a model for a context where the use of DH helped more than hindered.
What are you particularly interested in exploring/learning this   summer?
I would like to know more about the concrete tools available for digital scholarship, which I suppose we as a team will be introduced to through workshop-like elements. Perhaps I can learn to tweak them to my advantage! After looking through the Edward and Orra White Hitchcock Finding Aid, I'm curious about seeing where their two strengths aid each other – his curiosity about dinosaur footprints, geology, and natural theology, and her accurate depiction of all things in the natural world. In addition, it would be interesting to compare the lecture notes that he used for teaching alongside her drawings, perhaps see the accuracy of their paired project as compared to current scientific drawings of the same objects.
What are you hoping to get out of this experience?
Most of all, a new range of skills that I could then carry on and use in other areas. My work with the Archives & Special Collections in the fall showed me alternative uses of traditional media – I'd like to see what else is possible with it. In all else, I know that everything I will learn will not come from me declaring it but rather living through the experience. I look forward to learning about these tools, researching the interesting people who are Edward and Orra White (who I have to explain and re-explain to all who ask me what exactly I am doing with my summer internship), and producing an insightful project with equally awesome people that can help others understand the interesting lives of our subjects.